Enter the Cúcala: Audio Tour—Attuned to the Messenger
April 7, 2022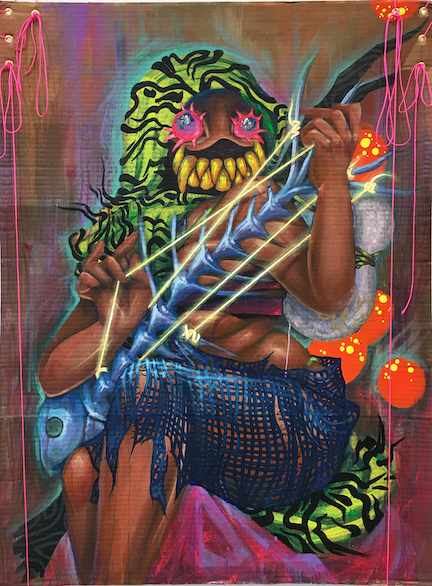 Script by Gallery & Curatorial Fellow Aria Cooper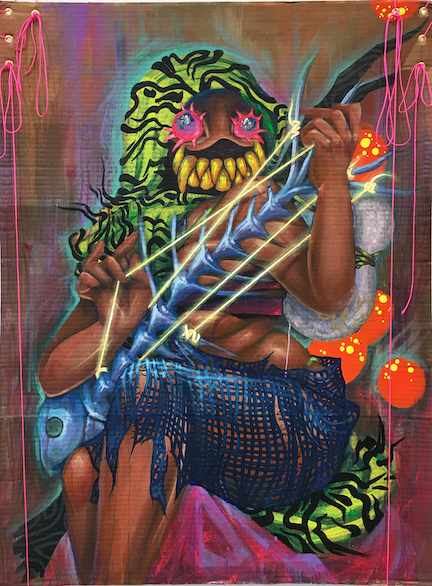 Transcript
In this piece, a woman-like creature with protruding hot pink eyes, menacing sharp teeth, and a whimsical mass of flowing green hair, pulls on glowing golden strings attached to fish bones like a guitar. To me, she is not inviting but rather intimidating and intriguing – simultaneously pulling you in and warning you to get out. This piece is called "The Messenger". She spreads stories of her travels with whatever she finds – this time, some fish bones crafted into an instrument. Her loyalty is to the truth, she knows that her messages excite many different reactions but it is her duty to shed light on what she has learned whether or not it is easily digestible.
Rixy herself is very similar, which makes sense because she uses herself or friends as inspiration for many of her paintings. If her pieces aren't based on people in her own life they are often based on diary entries. In one way or another, her work is an unapologetic reflection of herself. Rixy has continued to spread her own message about women's right to bodily autonomy through her work despite many obstacles. When she was a kid, art seemed out of reach because of the fancy materials and top tier training. As a college student studying art she continually felt restricted by her teachers' assignments, feeling as though she didn't have the space to bring her vision to life. As an established artist today she is continually misunderstood and disrespected by male artists who don't see value in her work past sexy women. Nevertheless, Rixy continues to create because she didn't see people who looked like her in the media and instead of waiting for the representation she was looking for she created it.
Rixy is a messenger through her own art, she asks, how do you take up space? How do you present yourself and what does that mean?